Paper medical record scanning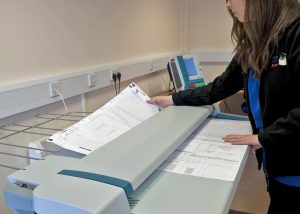 In the NHS and medical sectors it's vital to maintain patients' medical records and data securely, accurately and accessible only to authorised people.
Scan Film or Store is a specialist in medical record scanning. We have many years' experience assisting NHS doctors and staff, converting and protecting paper-based patient data for large hospitals and local surgeries.
In a few short steps we can convert paper records to modern digital format. We will:
 Visit your premises to help you identify which documents require scanning
 Provide a competitive proposal, clearly showing the work flow
 Collect your documents, with your signed approval, and bring them to our secure, ultra-modern scanning centre
 Carefully prepare your medical records for scanning
 Digitally scan them to a high resolution
 Convert the records to be stored and promptly return them to you on your choice of CD, DVD, external hard drive or USB flash drive
 According to your wishes we also return your paper medical records, or store them securely, or destroy them
Our scanning specialists are all security vetted for total security and peace of mind:
Our premises and security procedures are audited by government security advisers
Staff have signed the Official Secrets Act, are DBS checked and have been security vetted to BS7858 standard
We are certified to ISO9001:2015, assuring you of robust quality procedures
We can scan and digitise documents on your premises, if required, ensuring no data or paperwork leave your premises
Total integrity of documents and information
We hold all digital images within a special secure network to protect them from unauthorised access
With Scan Film or Store you'll get a team that takes the utmost care with your records, works accurately and quickly to provide you a market leading scanning solution and at the best possible price.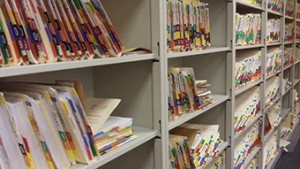 Find out more: call us today on 0800 008 7229 and let us show you how we can help or read a case study about a similar project.