Work has now started on our brand new premises at Woodlands Court Business Park, Bristol Road, Bridgwater. The foundations have been piled already and we are told by the builders that we will be in before Christrmas… "hopefully"!
We will be retaining premises at Guard Avenue, Yeovil in addition to these new facilities.
Here is a picture of the new site so far…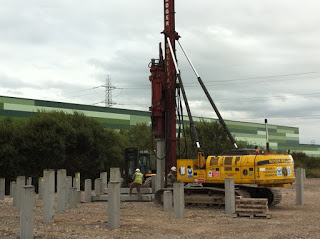 The new processing and document storage facility extends to a footprint of nearly 4,000 square feet and increases fourfold our box storage capacity between Yeovil and Bridgwater sites. It is located next to the St. Johns Ambulance building and behind the huge new Morrisons Distribution Centre – luckily we will look out at the countryside though.
New offices, preparation, microfilming and document scanning facilities will be provided in the brand new, state of the art, Bridgwater building. Additional staff will also have to be employed for the new, larger facility and we are already recruiting from the Bridgwater area.
The new facility will help us to accommodate storage boxes and scanning projects belonging to some prestigious new customers that we are working with. As we take the confidentiality of our customers very seriously we can't tell you exactly who they are but they include:
A very large engineering company in the North West
A South coast company specialising in precision composites
A local museum where we scanned irreplaceable glass photographic plates to make them more accessible online to the public.
So, if you have any boxes or files cluttering up your office then we can look after them for you! Click here for more details or call us today on 0800 008 7229.