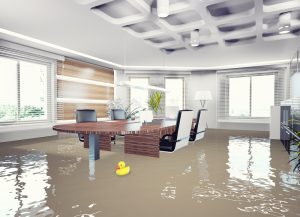 What would happen if you lost all your data? Sorry, perhaps we should have started with something a little gentler. Cup of tea? Biscuit?
No one likes to talk about data security. Just like no one likes to talk about insurance or funeral planning or what sausages are really made of.
It's almost bad luck, isn't it? Like the mere mention of the concept might summon a disaster, much like saying the name Candy Man out loud (as an aside, can you believe it's been 25 years since that film came out??).
Thing is, and you might want to brace yourself for this, more than 60% of companies never recover from a major loss of data.
Now you may think that your data is perfectly secure, thank you very much – you've got the latest systems installed, you use the Cloud and all that sort of high tech malarky.
But here's the thing: what about your printed data? That's right, just because it's old fashion paper and ink, doesn't means it's not data – or that it can't cause havoc if it's lost, stolen, damaged or destroyed.
Before you give up reading in despair, there is hope! Here's our handy guide to protecting your printed data from pretty much everything except an invasion of data eating alien life forms.
Keep it dry
Paper and water do not make good bed fellows. Too much moisture and you'll end up with papers that stick together, go mouldy or even start turning to pulp, making them unreadable.
Keep it ventilated
A badly ventilated room is likely to get damp simply because there's a degree of moisture in the atmosphere, and therefore you're going to end up with the same problems, especially the mould.
Get it scanned
If there's a disaster at your office – fire, flood, plague of paper eating locusts – you're going to wish you had copies of everything, aren't you? Ideally copies that the locusts won't want to eat. Also, anything printed on a thermo-printer (like till receipts, for example) will fade over time. If you've got boxes of archived expenses in your storeroom, you might want to check and see whether they're blank yet.
Destroy it properly
Simply chucking a barrowload of old box files on the recycling pile is not enough – haven't you watched any spy movies? Sensitive paperwork has a way of getting into the wrong hands. Destruction is a far safer option, and if you want to be 100% sure no ones going to go rifling through your secrets (or your customers' secrets), you're best off getting them professionally cross-shredded and pulped.
Incidentally, the same goes for microfilm and microfiche. Given that the images on these are roughly a centimetre wide, using a regular shredder will at best lop an image in half, leaving an awful lot that can still be read and understood. The only way to properly destroy them is via incineration. And before you go hauling your galvanised garden burner out of the shed, it's worth noting that microfilm and microfiche burn at 2000 degrees and release dangerous pathogens so if the heat doesn't kill you the fumes will! Best leave that to the professionals.
Store it offsite
Finally, for those documents you're obliged to keep in their original form for a certain period of time, we're back to the issues of damp and ventilation. Oh, and theft as well. And human error (well, it's not easy keeping track of all those papers, is it?). The best solution is professional offsite storage in a secure, monitored and alarmed facility with an advanced barcode tracking system and on demand retrieval services. (FYI: we might know someone who can help with this.)
So there we are – a few simple tips to help protect your data. We hope your business remains disaster free this year. But if you want to make sure that you're prepared for every eventually, do come and talk to us. It'll be a whole lot cheaper than trying to recover from a data security problem.
Save