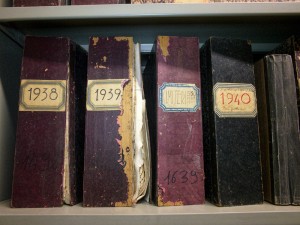 "How long do I need to keep my business records?" It's a question we're asked fairly often – but probably not often enough.
Some people assume they need to hold on to every last scrap of paper like a demented hoarder, and the consequences can be alarming.
Our director once visited a potential client who had records dating back to the Ark stored in the upper rooms of the company's office.
The weight of these endless files was actually bowing the floor – and, in turn, the ceiling above the heads of the poor employees below, who daren't venture into the store room for fear of the entire lot collapsing like something from a disaster movie.
As it happens, many records need only be kept for a few years – though there are others that you should hold on to for a lot longer than you might think.
Here are just a few facts for you…
COSHH records need to be kept for 40 years (which is the average lifespan of a bare eyed cockatoo, animal lovers)
Contractor time sheets should be kept for a year following transfer to your accounting system…. but those required for revenue purposes must legally be kept for six years.
Accident books should be kept for six years after the last entry (or Joe Pasquale will hunt you down and break your leg*)
Unsuccessful quotations should be kept for one year, but for successful ones it's only until payment of invoice and audit.
And that's just a start! Confused? Don't worry. To make life a little simpler, we've compiled this handy guide which should help you figure out what you can bin and what you can't.
Of course, that's not the only way we can help. Because once you've decided what needs to be filed and what can be scrapped, we can do three things:
Document storage – so you don't have to worry about the ceiling caving in. Our facilities are alarmed, protected and monitored 24/7, giving you complete peace of mind.
Document scanning – to create digital records that are much easier to access. We'll even train you and your staff to use the software to maximum effect.
Secure data destruction – because chucking private client records and sensitive financial data in the skip behind the office is a really bad idea.
Give our friendly team a call today to find out how we can help you avoid a storage nightmare.
(*Ok, we made this bit up.)