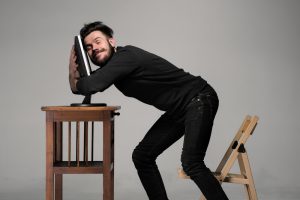 If there's one thing the document scanning industry does well, it's technology. We might not go as far as to say we love the machines we use to scan our clients' documents, but we certainly like them a lot. (Oh, who are we kidding – we love them.)
It's understandable that if the only scanner you've seen is the one that comes as an integral part of your office photocopier, you probably don't think they're all that flash. But if you were to visit us at our offices in Bridgwater, Somerset – which, incidentally, you're welcome to do any time – you'd see they're exceptionally clever bits of kit, with all sorts of extra features that make them really rather useful indeed.
You see, we may be an old fashioned bunch who believe in things like personalised customer service (remember the old lady we picked up from the train station recently??), but when it comes to technology, we're giving the Silicon Valley kids a run for their money. Here are three of our favourite scanners (and the reasons why we love them)…
The Book Eye Pro 4
This German-built machine is the one we use to scan books that need to stay intact. Featuring a multi-angled base plate and moving scanner head, it can deal with the most delicate of volumes without damaging the binding, plus flat items of up to A3 size. Each page is turned by hand – with cotton gloves, in the case of delicate items – so it's not a quick process, but the results are worth it. We've used ours to scan everything from ancient manuscripts and 150-year-old old leather bound council records to collections of vintage football magazines.
The flashy bits:
In-built software takes out the unsightly 'buttock crease' (you know what we mean, right?) and flattens out the image.
The same software can enhance the image if necessary, and can cut a double page image into its single page components.
Because there's no need to feed the originals through a roller, it can scan thicker items too, such as art canvases.
Why you should love it: Using this bit of kit means you don't need to have your books or ledgers taken to pieces in order to be scanned – even the spines will stay perfectly intact.
The OCE Large Format Scanner
For technical drawings, architectural plans and anything else above A3 size, this is the machine you need. It can take documents of up to 36 inches wide and 15mm thick, but here's the thing – there's no limit on length. So we can scan documents like hospital ITU charts and 25ft long aircraft drawings with ease.
The flashy bits:
Single camera and mirror formation ensures super accurate colour capture.
Preset modes can be used to scan non-standard documents such as blue prints, transparencies, dark originals etc.
Special configuration takes documents up to 15ml thick so we can scan items like mounted artwork.
Why you should love it: If you regularly deal with large format documents, this is the machine that will enable you to create a digital archive – and save yourself a awful lot of storage space.
The Kodak i4600
This is our main volume scanner. It will knock out around 40,000 images a day, which we think you'll agree is pretty darn quick. It can do colour, black and white, and greyscale scanning up to A3 size and is as accurate as it gets, outputting images as PDF, jpeg or TIFF files.
The flashy bits:
Creates super high res pictures up to 1200 DPI (as a comparison, glossy magazines tend to use pics of around 300 DPI quality).
A super accurate alarm system to prevent more than one page going through at a time.
Built-in OCR (optical character recognition) software, which means you can search your scanned digital files for text in up to 50 language.
Why you should love it: This is the reason we can turn your bulky, possibly chaotic archive room into a state of the art, easily accessible digital archive, without taking several months to do it.
If you fancy having a gander at our beloved tech for yourself, and finding out how we can use it to help you create a digital archive of your paperwork, get in touch today.
Save
Save
Save