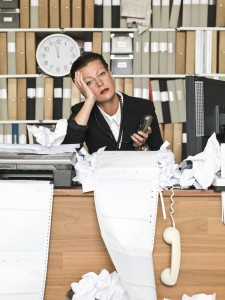 Listen! Can you hear that? Yes, that empty, echoey sound. Don't recognise it, do you? Allow us to remind you – it's called silence, something that for home workers and parents has been sorely lacking over the last few weeks. Now the kids are back at school, life can get back to normal. If you are working from home or going back to the office again take this opportunity to clear your working spaces and give yourself or your business more room to breathe – you will feel much better for it!
Spring may be the traditional time for a clear out, but we think September is a much more sensible option. After all, you've undoubtedly got an office that's been rather neglected since that final school bell rang way, waaaaay back in July. Having a back-to-school / back-to-work clear out is pretty therapeutic (honest) and will at the very least help you delay the start of actual work for a day or two.
So, how can we help? Well, one thing we offer here at Scan Film or Store is the gift of space i.e. document scanning. We can scan anything from the contents of lever arch files to receipts, old bank statements, large technical drawings, archived employee records to… well, you get the picture. Anything that's currently clogging up dusty shelves, filing cabinets or quite possibly whole rooms where no one dares to venture.
Here's the science bit:
We use top quality Kodak and Canon document scanning equipment and are ISO 9001 certified, so you'll always get accurate, high-quality results.
We can output digital images in .pdf, pdf/a, .tif or .jpg format, in colour, greyscale or black and white.
We also offer a full indexing service and optical character recognition (OCR) of .pdf documents, creating 'digital filing cabinets' and readable, searchable documents.
Really helpful, right?
There are then three options for the originals. We could give them back to you, although that would rather defeat the object. Instead, option two is that we can store them in our secure, dry and protected premises in Bridgwater. We use an advanced barcode tracking system, logging everything within our auditable document storage system, so they'll always be easy to find and retrieve.
Or, option three, if you don't actually need your originals anymore, is that we can destroy them for you. And we don't mean chuck them in the bin out back – this is high tech stuff, with cross shredding and pulping (the pulp is then recycled, so it's good for the environment too!). We can also destroy CDs and DVDs, computer hard drives, microfilm and lots of other things, so do add those to you 'get rid of' list too.
If you need help decluttering your home or office, call us free on 0800 008 7229 or contact us here and we can talk you through the best options to suit your needs and your budget (the initial chat is free and without obligation, of course). After all, it'll be Christmas before you know it, so you need to make room for all those presents!