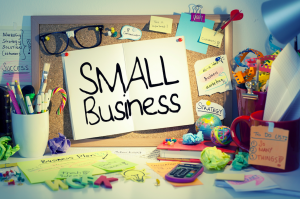 Have you ever thought about whether choosing local businesses as suppliers can benefit your own business?
There's something about the start of a new year that makes us a little bit philosophical. Perhaps it's the feeling of new beginnings, that sense of starting afresh with a blank slate, ready for the next 12 months of adventure. Or it could, admittedly, be too much Christmas pudding and sherry.
Either way, the thing we've been mulling over recently is the whole question of multinational vs independent local business.
Because as a local business ourselves, we're really rather proud about how much small businesses contribute to the local economy.
Over 99% of business in the UK are classed as small (in other words, with less than 49 staff) which is quite something when you think about it. In fact, around 76% of businesses don't employ anyone at all aside from the owner, which means that even the really tiny sole trader business are absolutely vital.
Sadly the multinational conglomerates, with their endless pots of cash, can buy the kind of marketing that often overshadows the humble local business. Which is a shame, because we really believe there are some sound reasons why choosing a local business can actually be good for your own business.
Here are three of them:
1) You'll benefit from easy access
As a time-pushed business owner, you don't want to be trekking up to London to meet your accountant or getting on a plane to sit down with your marketing agency, right? Being able to get face-to-face with your suppliers quickly and easily is definitely a bonus of choosing a local business. It's also better for the environment, whether you're looking at your own transport or that of any goods being shipped. And in the case of document storage – our particular passion, in case you'd missed that – it's an awful lot easier to access your files quickly if they're nearby in the South West rather than up north somewhere.
2) You'll build important networks
There's nothing like a local business community. So many small businesses live and die by referrals they get from people they've met at local networking events, exhibitions, conferences and the like. By choosing to work with other small, local businesses, you'll almost certainly find your services being used in return. It's a symbiotic relationship that can only be good for the economy and for everybody's bottom line.
3) You'll discover great quality
Bigger doesn't always mean better. Just because a company has fancy offices in London, New York and Singapore, doesn't mean they're actually going to produce work that's of a better quality than Nearby & Sons down the road. Local businesses are often started by very passionate, very skilled people who genuinely want to help their clients and build something they can be proud of. There's more accountability, more personal pride and often more attention to detail.
And of course, there's the feel good factor of knowing that you're contributing to the local economy, and stopping the world descending into a bland monopoly of faceless corporations. You can't really beat that, can you?