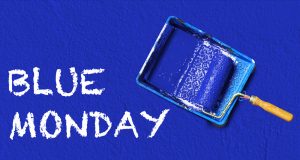 How are you feeling today? Not your best? Don't worry, you're not alone. According to the experts (by which we mean some clever marketing company who dreams these days up) today is Blue Monday. In other words, the day we're statistically most likely to feel down in the dumps.
Why? Well Christmas is a distant memory but the evidence of festive scoffing is all too evident on our waistlines, we've yet to settle the credit card bill and failed to keep our New Year's resolutions, the weather is terrible and it's still ages until payday. If you weren't feeling glum before, bet you are now, right?
Don't worry, as always we are on hand to provide some tips for beating Blue Monday which, at the very least, will hopefully give you a bit of a giggle to help banish those blues.
Stick your swimsuit on
Ok hear us out. One of the reasons we're feeling blue today is that the weather sucks, right? It's cold, it's gloomy, probably raining. But that's just outside! Inside you can control your own climate. Stick the heating up (just for today mind, it's not great for the environment), get into your swimsuit, mix up a batch of Mai Tais, line up a holiday playlist on iTunes or pop on a rerun of Hawaii 5-0 and you're good to go. Who says you have to get on a plane to have a tropical break?
Smile, smile and smile again
It might feel like a grimace at first but the very act of smiling actually helps us feel better! If you're struggling, watch a comedy show, Google "cats falling over", whatever works for you. And then once you've got those facial muscles working properly, start smiling at other people. Smiling is contagious and knowing that you've helped boost someone else's mood will give you a boost in return. Just don't overdo it or you'll come across as creepy and potentially add "getting slapped in the face" to the list of things making you feel blue today.
Ditch your old documents
People usually do their spring cleaning in March. Which makes sense, because that's when spring actually starts. But how great would it feel to get to March and be able to take a day or two off because you'd already got yours sorted in January? There's nothing as satisfying as having a good clear out, you'll feel a huge sense of accomplishment and the newly decluttered environment will enhance your calm too. If you need help with document storage, document scanning or secure data destruction while you're at it, do give us a shout.
Run away from it all
Usually we wouldn't advocate running away from your problems but in this case we mean it literally. It's probably the last thing you feel like doing but grabbing your trainers and pounding the pavements for even 10 or 15 minutes will do you a world of good. The fresh air, the exercise, the endorphins – not to mention the satisfaction of having actually got off your backside and done something productive. Go on, you can do it! We believe in you.
Embrace the blues
Failing all else, work along the principle of "if you can't beat 'em, join 'em" and fully embrace Blue Monday. Take a duvet day, get the Ben & Jerry's out of the freezer, stick on The Notebook or Celine Dion's greatest hits album and have a good old blub. There's no proof as such that a good cry makes you feel better, but ask most people and they'll tell you it does. Now, where did we put the tissues?
If worrying about document storage, document scanning or secure data destruction is part of what's getting you down today, give us a call and find out how we can help. We don't mind if you have a bit of a cry on our shoulder!