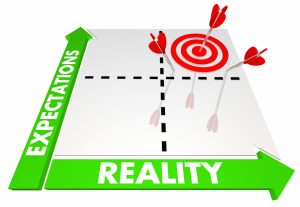 If you've never used a document scanning, storage or destruction service then there's a good chance you've got a few misconceptions about the whole process. We're not saying you're generally uninformed or anything, honest. But why would you know the ins and outs of what is, we'll admit, a less than thrilling industry to anyone who isn't in it, right?
So anyway, we thought we'd run through a few common misconceptions and then provide a little explanation of the realities so you're better prepared. If it's good enough for the Boy Scouts and all that…
Document scanning, storage and destruction is only for big corporates
This is a common misconception and one we're really keen to break. Because yes, we work with some really large clients – clients we can't really tell you about because we've all signed the Official Secrets Act. But we also work with family firms and charities and even individuals (remember the lady with the Tibetan manuscripts?) and we offer them the same high level of service that we do for the big guns.
Once you get my documents, I'll never see them again
If you've never visited our Bridgwater HQ (and you're welcome to, by the way) then you might imagine it as some secret underground bunker or even a slightly more professional looking Bat Cave where documents go, never to be seen again. But actually any documents you stored with us would be easily accessible. We barcode everything, you see, so it's easy to find. And we can either scan documents and send you electronic versions if you need them, or get the originals over to you by our own vehicles or courier.
If I want to see one of my stored documents, I'll have to wait ages
Ah there, you see, we've already covered this in the point above. In case you skipped that one, here it is again: we can either scan a document and whiz over via email or we can deliver it back to you or call in a courier. So really, you can have whatever you need within a few short hours, wherever you are in the country.
Data destruction is just about shredding things quickly and in bulk
A big fat nope on that expectation. Data destruction is an important business with serious security implications so even a super fast giant shredder isn't good enough. We use a cross shredder that creates confetti rather than strips (which, as you'll know if you watch enough CSI, can be painstakingly put back together if you're really committed) and then pulp that confetti so it's literally impossible to read. We can also chip PC hard drives, degauss computer tapes and incinerate microfiche and microfilm, which have a high burning point and can't be dealt with in your average garden waste burner.
I'm going to have to make a system to store my scanned files
Well if you've got a large amount of files that need to be scanned then yes, a system will need to be made – but let us handle it. If we do say so ourselves, we're pretty good at it. We can literally sort the whole scanning process, from picking up your documents to preparing them for scanning (taking out staples, separating individuals documents with separator sheets etc) then scanning and creating a digital filing system. We can even train up your team to use the new  filing system. Handy, right?
Once my files are scanned I'll be able to throw them away
Well you can if you don't need them. But if there's anything confidential in them – and we don't just mean the Colonel's secret recipe; even simple things like customer details need to be handled carefully, especially with GDPR now in force – then you'll probably want us to securely destroy any originals you no longer need. Alternatively we can store them at our secure storage facilities or return them to your premises.
You won't be able to scan my documents – they're huge
Ooh, we do love a challenge. Especially as we have a very snazzy Canon OCE large format scanner, which can scan up to A0 in width and pretty much any length. Got a stack of 40ft aircraft drawings you need as digital files? No problem, we've done it before. Want to scan your pet giraffe's neck X-ray so you can share it on your blog? We can help and we promise not to mock (too much).
Document scanning is bad for delicate old books
Well yes, that's true – if you try and stick them in the scanner you've got in the corner of the office. But we have a Book Eye Pro 4 scanner. It's a pretty flash bit of kit that has a specially designed V plate which means the spines of delicate book don't get damaged. And there's even software built in to help flatten the image out and remove the, ahem, buttock crease. You know what we mean.
If you have any other potential misconceptions about document storage, scanning or destruction you'd like us to help you shed, give us a call today.