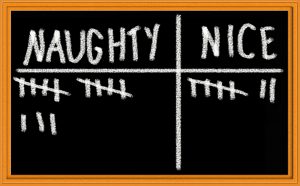 As we approach the end of the decade in data protection, one question is looming in everyone's minds: what will Santa get us for Christmas?
The rules of data protection have changed. With corporate espionage, semi-legal journalism and ransomware lining up to take a swing at sensitive data, the quiet of the night before Christmas has become a little more unsettling. A mouse may not be stirring, but other things might be. And it might not just be Santa coming down the corporate chimney this Christmas.
A message from Father Christmas
The good news is that the North Pole has been in touch. We've been keeping some of this year's presents safe for Christmas HQ. And you'll be glad to know, all the gifts are accounted for.
The jolly man himself, asked us to forward this urgent correspondence.
"I know, I know, I know. It's natural to assume that you won't be on the naughty list, ho ho, ho – sorry, rotten cough – on the naughty list this Christmas. After all you have been working very hard this year. And don't think I don't take that into account.
Trouble is, it's not up to me who ends up with a lump of coal anymore. I've got all this – ho, ho – data stuff, that works that all out these days. That's why you should listen to Scan Film or Store's advice. I'll be seeing you – and you won't be seeing me – in the small hours of the 25th ho, ho, ho – look stop transcribing my cough Rudolph, no one wants to read that…"
Turns out according to Datto's latest ransomware report, 85% of Managing Service Providers are experiencing ransomware attacks on SMBs (small and medium sized businesses). And while these kind shepherds are doing an admirable job fighting off the wolves, it's not quite enough.
The Scan Film or Store Christmas blockade
In celebration of all things festive, we're offering an almighty defence against winter's less-welcome intruders. We'll take the wolves out of winter while you tend to that glass of mulled wine.
First in the line of defence is a firewall so hot that you could throw the One Ring into its flames. It would have made Frodo's job a lot simpler if he had known about it.
Second in our blockade is the latest TrendMicro antivirus controls, primed to annihilate any blackened remains that stumble through the wall of fire.
We've armed our servers with uninterrupted power supply protection and mirrored drives. Nothing's going down while this planet's still spinning.
To top it all off, every night we're going to be backing up our data and storing it in fireproof safes in a secure location. So even if everything gets lost, you lose nothing.
Finally, we're accredited by the government backed Cyber Essentials scheme. So basically, if you back us, you can be sure we've got your back.
Still having doubts? We've got a fully documented Business Continuity Plan, so if disaster should strike, we can still continue working and protecting your records.
No-one's getting coal for Christmas on our watch.
See it for yourself
Come and take a tour of our Armageddon-proof facilities. We're just two minutes from the M5 at junction 23.
You're welcome to ask our team anything – though they may have to kill you if they tell you everything. It's a hazard of signing the Official Secrets Act. Our premises and security procedures are independently audited by our customers, ensuring the highest standards. We'd love to talk you through them.
And if there's any message you'd like us to pass on to the man in red and white. We'd be happy to oblige.
If getting your data security sorted is on your Christmas Wishlist – or indeed your New Year's resolution list – get in touch to see how we can help with everything from secure document storage to data destruction services.