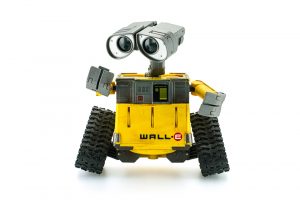 Document shredding and data destruction done correctly can make all the difference for company security. It can also completely change the plot of many Hollywood films. Here's a rundown of how some of them might have played out, had the characters known we existed.
Star Wars: A New Hope
The Emperor could have fulfilled his ambition to rule the universe forever, if it hadn't been for leaked documents. The Death Star, formidable as it was, had its critical weakness exposed because someone didn't destroy the blueprints. If they had embraced document shredding, Luke would not have destroyed the original and might never have had the chance to confront Darth Vader. Palpatine, you should have gone to SFS.
Saving Private Ryan
An order to retrieve a soldier from the front lines because his mum wants him home? You could risk the lives of your men to fetch him, or you could hand the order to SFS and let us vanish it from existence. Ryan doesn't even want to be retrieved. So why go all that way, Tom Hanks? Why go?
Star Wars: The Force Awakens
Because no good Star Wars trilogy can start without a leaked document, The Force Awakens' entire plot is built around a 'Map to Skywalker' that presumably was drawn by the man himself, even though he did not want to be found. Perhaps he needed to archive the information somewhere in case he couldn't remember where he was. Of course, a different level of security is needed when Kylo Ren can extract the map from your memory using the Force. So far at SFS, we've not had to deal with such a situation. 
WALL-E
All the memories of earth were stored aboard the spaceship that kept humans suspended in space. If the (spoiler alert!) rogue autopilot had destroyed the data, no doubt humanity would have never returned. This would have been quite a sad ending, so it's just as well they archived everything in digital format, ready to be uncovered by the most adorable robot ever seen.
The Hobbit
What do you do with a secret map leading to a secret entrance on a mountain housing a dragon who's waiting for an excuse to destroy a city? You could go and wake up the dragon, get momentarily rich and then perish in fire. Or you could shred the map to make sure nobody ever does such a foolhardy thing. Still, we learn from our mistakes.
Harry Potter and the Philosopher's Stone
Let's see Dumbledore, you've got a stone that would give Voldemort a chance to rise to power again? You could hide it behind a matrix of trolls, three-headed dogs, living chess pieces and a magic mirror. Or you could just put the stone in our state-of-the-art shredder. Our shredder would probably complain a little – it's meant for document shredding after all – but it's all in the name of stopping He Who Must Not Be Named.
So if you're trying to stop a dark wizard or you've recently finished work on a Death Star, give us a bell. Or if there's other less dramatic documents you need securely shredded, or data you need destroyed, don't hesitate to get in touch.