As the country freezes it's bits off some areas are really struggling to get their staff to work because of major disruptions to the transport systems due to snow and ice – well the Midlands and North anyway. Here in the South West we may not have snow but the bitter winds are not exactly conducive to venturing outside!
Many staff can now work from home, particularly if their role is in administration or sales and if they have a good Internet connection and access to a PC or laptop to 'link' with their office systems. Depending on who you listen to there are arguments for and against working from home — the lady boss of Yahoo was vociferous in the press recently 'against' the idea for instance — and it can be a very productive way of fulfilling your role without the hassle of commuting to the office and all that entails.
And it all works well… until you need that document from the archive to complete your report or presentation. Now, if you were actually in the office you would be able to get up from your desk and walk through to the archive, retrieve what you need (presuming that you can actually find it in the 'sophisticated' indexing system that Julie implemented, who left the company 3 years ago without telling anyone how it works) then scan it and use it to make your point.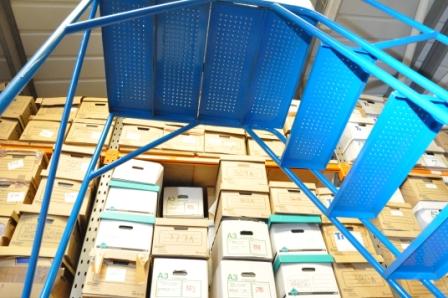 Why not let us store your archive documents in our brand new document storage facility in Bridgwater where all the boxes are barcoded and we can retrieve a box of documents, a file from a box or a document from a file on demand — and often within hours of your request. We can then either send back the original hard copy to you or scan and email what you need directly to your PC (at home if it's still snowing).
Managed document storage starts from as loittle as 60 pence per box per month and we currently have several offers for storing over 250 boxes. We are an ISO 9001 certified company with security vetted staff and our new site has robust intruder and fire alarm systems which are monitored round the clock.We can even take your archive files off the shelves and put them in boxes for you — we offer a complete service. Click here for a testimonial from one of our largest customers storage testimonial.
So, we may not be able to organise your archive before the snow melts this year but talk to us now so that you can work from home, in the warm, when the snow and ice comes next winter! For a free, no obligation, quotation call 0800 008 7229 today.