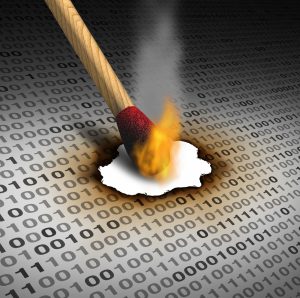 We know what you're thinking: microfilm destruction sounds like so much fun – can't I have a go? But just as re-enacting World Wrestling Entertainment can lead to more broken bones than imitators expect, microfilm destruction too is something you should not try at home.
But I have a shredder!
We get it. Shredding is fun. Unfortunately because of their size, shredded microfilm images can still be read. So it really is just a waste of shredding energy that could be better invested in heavy metal guitar solos. Side note: standard issue shredders aren't a secure way of destroying any kind of data – almost anything can still be pieced together and read afterwards – we, however, undertake to destroy it properly.
Microfilm, microfiche and aperture cards are designed to last for 500 years. You know, just in case you still need it in five centuries. Just as the power of One Ring could only be undone by the fires of Mount Doom, the mighty microfilm can only be destroyed by professional incineration.
Incineration? I can do that myself right?
I'm afraid that lighter won't do much good. The same goes for a bonfire. You'd even struggle with your own furnace. Microfilm burns at 1,000°C and is highly combustible. So if you do manage to destroy it you might burn down any nearby buildings too. Plus, when it reaches burning point, microfilm releases chemicals that you don't want to breathe in. Even if you have your own gas mask, there are strict (and necessary) regulations surrounding incineration. In the spirit of Boromir and his many memes: "One does not simply burn microfilm."
So how come you get to do it?
We've got a track record for destruction (don't we sound cool?) and also for safety, security and professionalism. Our vetted staff will remove your microfilm from its current storage, place it in security sealed and bar-coded bags and securely transport it to the place of incineration. The bags are weighed and scanned to ensure everything is accounted for, then we witness the incineration on your behalf. We know you wanted to see it too, but at least this way you'll receive a Certificate of Destruction and a Waste Certificate for your audit trail.
Is there anything you can't do?
We haven't learned how to turn lead into gold yet, but we're getting pretty close. Seriously though, it doesn't matter how much microfilm you throw at us (preferably not literally) we'll be able to take care of it. Check out our case study of how we oversaw the incineration of 24 tonnes of microfilm, which we had to transport in 1600 bags. Over 4 days, we watched it burn, staggering the process appropriately, so that the chemical fumes could be safely contained.
Can you take the Ring to Mordor?
Um, no. We have to draw a line somewhere. We may add destruction of magical items to our services list at some point but in the meantime, if you have any microfilm, microfiche or aperture cards that need to be shown to the flames, don't hesitate to call us.