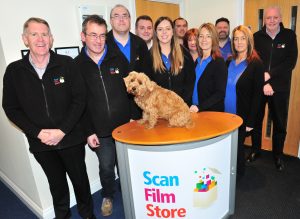 Do you remember turning 10? The nearly uncontainable excitement of reaching double digits? A whole decade on the planet! Now that's proper grown up.
Well, that's exactly how we feel this month. Yes, dear reader, Scan Film or Store is 10 years old. And we are as excited as a kid who's been eating sweets since breakfast and has just seen a clown car pull up outside the house.
It just seems quite unbelievable that we've been doing document scanning and storage, secure data destruction, microfilm conversion and the rest of it for such a long time!
A special present…
While we will no doubt be blowing out the candles and popping open the bubbles (none of the team is actually a 10-year-old, you understand – no underage drinking here, thank you) we thought our big birthday deserved something extra special.
And because our local community in Bridgwater is so important to us, we started thinking about how we could give back and say thank you for all the support that we've been given over the last decade.
That's when our IT manager, Sophie, had a bright idea.
…with a serious backstory
Sophie has been part of the team at Scan Film or Store for seven years. Her mum, her aunt and her husband work here too. (See, we told you we were a team with strong family values!)
So you can imagine how much of a shock it was last year to hear that Sophie suffered a sudden cardiac arrest.
She was at home when it happened, caring for her 2-year-old daughter. Luckily her husband was also home and was able to give her CPR for 15 minutes until the ambulance arrived. When they did, they shocked her heart using a defibrillator before taking her to the hospital where her family were told she had a 50% chance of surviving.
She spent three days in intensive care, a further two weeks in hospital recovering and had an implantable cardioverter-defibrillator (ICD) fitted in case it ever happens again.
Help us save lives
Sophie has made a full recovery. But not everyone is so lucky.
Cardiac arrest can happen to anyone, at any age and at any time. That includes healthy people with no known heart problems or risk factors. The chances of surviving if you're not already in a hospital are only 8%. But if you get CPR and early access to a defibrillator, those chances go right up.
That's why the entire SFS team has now trained as first aiders and why, as part of our 10th birthday celebrations, we're joining Sophie's fundraising efforts to buy and install a public access AED (automated external defibrillator) at SFS HQ here in Bridgwater.
We want to make sure that we're ready to step forward if anyone nearby needs our help, and we've been visiting the other businesses on the Woodlands Court Business Park to raise awareness of sudden arrhythmic death syndrome.
If you'd like to wish us a happy birthday, we couldn't ask for a better present than your donations on Sophie's Just Giving page. Thank you for supporting us in our first 10 years of trading and we hope your generosity will help us to save other lives with the new AED.