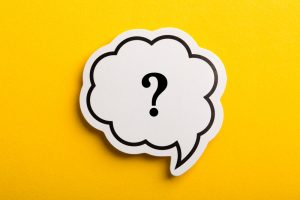 Document storage and scanning is our bread and butter, so it's sometimes easy to forget that not everyone knows the ins and outs of it like we do. From technical jargon to the processes, we've got so used to it being second nature, we sometimes forget that not everything is quite as obvious to the rest of the world!
There are a few questions we get asked time and again. So we thought it would be helpful to pull them all together and answer them in a single FAQs blog post. It might seem altruistic but frankly it will save us an awful lot of time repeating ourselves!
Do I need to provide my own storage boxes?
Nope, we've got that covered. We'll provide high quality boxes that won't fall apart or weather, bring them along and even pack up all your stuff for you so you don't have to lift a finger. We'll also barcode the boxes so they're easy to find in the warehouse and we can get the right file back to you whenever you need it.
How easily can I access the documents I've stored?
Because of the way we barcode the boxes we store, it's super easy for us to find them at pretty much a moment's notice. Then it's just a case of couriering them to you wherever you are in the country, whether Bridgewater, Bristol or beyond. Or we could scan them and you can either use them in their electronic format or print them out at your end. We're nothing if not flexible.
What security measures do you have in place to protect classified documents?
Glad you asked! We have all sorts of things in place. For a start, our purpose built storage HQ in Bridgwater is environmentally controlled, monitored and alarmed 24-7. We've got ISO 9001:2015 and BS10008 compliance, which means we can ensure the integrity of files from the point of collection to the point of return (kind of like when the police transport evidence). And all of our staff are DBS checked, security vetted to BS7858 standards and have signed the Official Secrets Act. We've even got Cyber Essentials Scheme certification! We're basically the James Bonds of the document storage and scanning world.
Can you scan colour documents?
Sure thing – colour, greyscale or monotone (black & white to you) single or double sided. We'll manually take out any paperclips and staples too, adding separator sheets between documents so the scanner can distinguish where one finishes and another starts. We'll even separate any post it notes out and scan them on separate sheets of paper so you don't end up with missing information in your digital archive.
How do you organise scanned documents so we can find everything?
We don't like to boast but we're really rather good at creating digital filing systems. Our scanning services include a full indexing service as well as optical character recognition (OCR) for .pdf documents, creating digital filing cabinets full of readable, searchable documents. We usually start by taking a sample of your documents and scanning those so you can get a feel for how it's going to work – we won't charge you for this bit, so there's no risk. Then we'll not only create a logical and ordered system but we'll even train up your staff so they can use it quickly and easily.
What kind of digital files does your scanning process output?
We can produce .pdf, .pdf/a, .tif or .jpg files depending on your needs. And if you don't know what you need, you can either have a read of this blog post on Do you know your PDF from your TIFF? or give us a call and we'll talk you through it.
What happens to my hard copies after they've been scanned?
It's up to you. We can return them to you, store them here at our purpose-built HQ in Bridgwater or we can securely destroy them. Either way we offer 30 days free storage so that you've got time to check through your new digital files before making any decisions.
How long do I need to keep my files for?
That's not a question we can answer succinctly. But we have written a whole other blog post on it. Have a read of Paperwork – what to keep and what to chuck.
Why can't I use a shredder to destroy my confidential documents?
You can. It's just that if someone has the time and inclination they can sit down and piece the strips of shredded document together. And if we're talking microfiche or microfilm then it's even worse because the images they contain are so very small that they might only get chopped in half by a standard shredder. We use cross shredding to destroy paper documents and then pulp the results so that no one, not even the most cunning super villain, could extract the data from it. And we incinerate microfiche and microfilm in a specially ventilated, crazily hot incinerator (seriously, it burns at a really high temperature so you do not want to try this at home).
Can I scan old, delicate or oversized items?
You can with us. We've got a pretty exciting range of tech on hand to help us tackle the most specialist of jobs. For example, we have a Book Eye Pro 4 scanner which means books don't have to be taken apart to be scanned. They don't even have to be laid entirely flat, so the spine is protected (and the software takes out what we lovingly refer to as the 'buttock crease', which is useful too). And then there's the Canon OCE large format scanner, which scans up to A0 in width and basically as long as you like. We've done aircraft drawings that were 40ft long! Basically we love a challenge. So, if you have an awkward item that needs scanning then let us know and we'll do our best to help.
Have you got any other questions that we've not answered here? Send them over to us at info@scan-film-store.co.uk and we'll update this post with new questions and answers so everyone can benefit.